Best Smart Water Solution Award
Echologics® as part of a broader Mueller Water Products, Inc. team received the 2016 Best Smart Water Solution award at the Smart Water Summit which took place in Florida. Over 100 utility executives selected the award recipient after hearing presentations from nearly 40 smart water technology providers.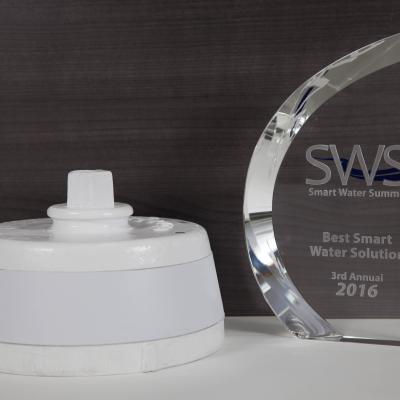 The Mueller Water Products smart technology portfolio enables utilities to actively diagnose, monitor and control the delivery of safe, clean drinking water.  The portfolio includes:  continuous leak detection monitoring for distribution and transmission mains, water main condition assessment, advanced metering infrastructure (AMI), remote disconnect meters, remote pressure monitors, and automated flushing systems.
The Smart Water Solutions Summit focused on key issues faced by utilities when implementing smart water programs which included:
Budget availability
Business case development
Cyber security for collected data
Skilled employees to manage IT solutions
Lack of technology interoperability
Regulatory compliance
Physical security